Introducing… Mia
Meet Mia, who is an 11 year old Westie. Mia loves to chase anything that might be flying in the sky. From helicopters, to birds and fireworks, she'll be after it like a rocket.
Mia is mad about her favourite toy, which is a Meerkat. She will often be found sucking on the Meerkats nose like a dummy!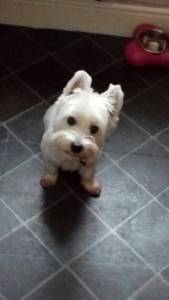 🐰🐱 Meet the #TaylorsFamily! 🐍🐶
This post is part of our Meet the #TaylorsFamily series, giving you the opportunity to meet the pets of our fantastic staff members and customers!
We will be posting part of every Personal Pet Bio on Facebook and Twitter, so to stay up to date with the latest store news, offers and pet biographies, like/follow us – Taylors' Facebook // Taylors' Twitter