Introducing… Lizzie
Meet Lizzie, the 9 month old Royal Python, who is very shy for a snake. She likes to stay curled in a ball, with her head hidden whenever she is picked up. Lizzie's favourite toy is her Grapevine Branch, with her favourite foods being Frozen, and African Soft Fur Rats.
Lizzie is known as a Royal Python here in the UK, however in the US she is more commonly known as a 'Ball Python', due to the way they curl into a ball. Lizzie tends to forget this, and prefers to pretend to be a tree snake, spending hours upon hours sat on her branch.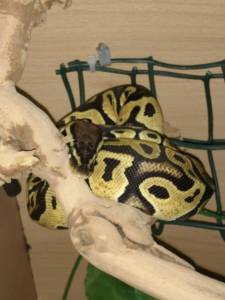 🐰🐱 Meet the #TaylorsFamily! 🐍🐶
This post is part of our Meet the #TaylorsFamily series, giving you the opportunity to meet the pets of our fantastic staff members and customers!
We will be posting part of every Personal Pet Bio on Facebook and Twitter, so to stay up to date with the latest store news, offers and pet biographies, like/follow us – Taylors' Facebook // Taylors' Twitter